67th Annual Convention
Gulf Coast Association of Geological
Societies and the Gulf Coast Section of SEPM

November 1–3, 2017

GCAGS 2017 hosted by:
The South Texas Geological Society

Visit the 2017 Convention Website
Sponsorship Opportunities Available





---
2017 GCAGS Grant Committee Report of Awards

---

2017 Gulf Coast Section IBA Winners
Congratulations to ALL!
1st Place
University of Houston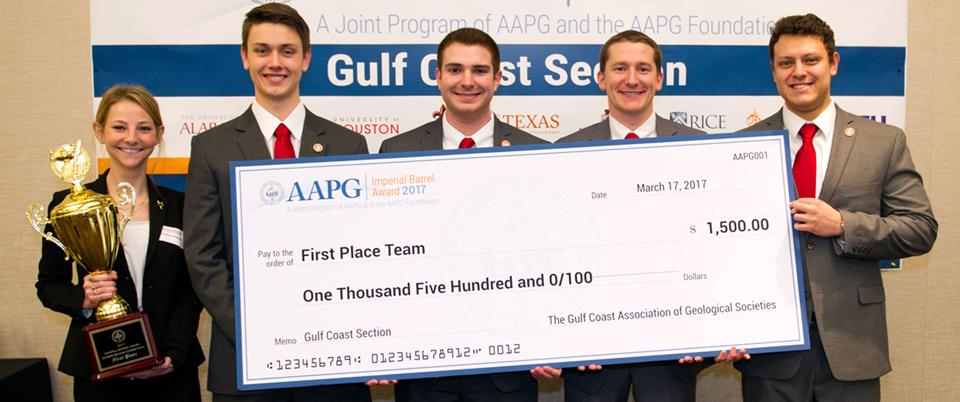 2nd Place
University of Louisiana at Lafayette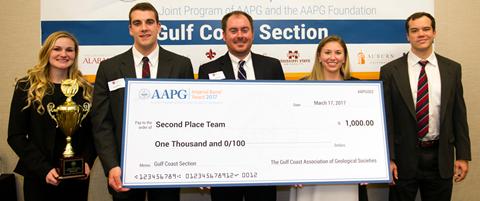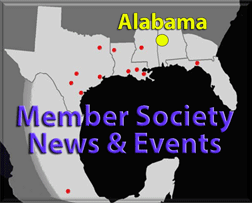 ---
Other Gulf Coast News
U.T. to core methane hydrates
in GC 955 in 2017
In Spring 2017, the University of Texas (UT Austin) will drill two research wells in Green Canyon Block 955 (GC 955) to core and log methane hydrate trapped within channel margin levees that are approximately 1350 feet below the seafloor (Fig. 1). The program will acquire and analyze pressurized cores to study the potential of methane hydrates as an energy resource. UT Austin invites interested parties to participate in this operation (see attached).
NAPE Summer
August 16-17, 2017
George R. Brown Convention Center
Houston, TX
GSA Annual Meeting 2017
September 22-25, 2017
Seattle, Washington
Abstract Deadline - August 1, 2017
Early Registration Deadline - August 18, 2017
GSA Annual Meeting 2018
November 4-7, 2018
Indianapolis, Indiana
Field Trip submission deadline December 1, 2017 Sessions and Short Courses
deadline February 1, 2018
Abstract Deadline 14 August 2018
---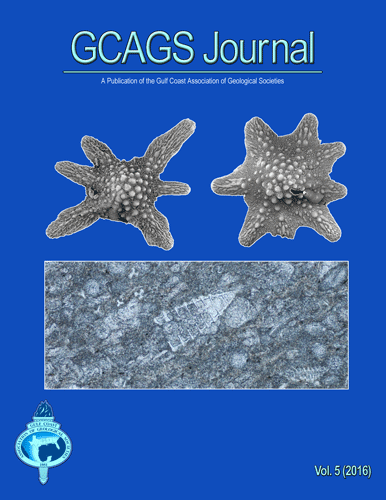 2017 GCAGS Journal

The Journal Provides:

• Experienced Editors
• Formal Peer Review
• Quality Hardbound
• Color Graphics
• Fast-Track Publication
• Free Online Access (Now Available!)
Contact Barry Katz, Editor
(BarryKatz@chevron.com) for additional details!
If you'd like to publish in the GCAGS Journal The Peer‐Reviewed Journal of Gulf Coast Geoscience Submit an extended abstract of at least 600 words, including 1–2 representative figures, to the GCAGS Journal Editor, Barry Katz at barrykatz@chevron.com by December 15, 2016. Once accepted for publication, a full manuscript should be submitted before March 1, 2017. Full instructions for manuscript submissions will be posted online at www.gcags2017.org. Convention presentations of Journal submissions are encouraged, but not required.

---

Beginning with the 2012 Annual Convention in Austin, Texas, the GCAGS will publish a yearly collection of formally peer-reviewed articles in a new GCAGS Journal Series: Gulf Coast Geology.

The Journal series will focus on all geoscientific aspects of the greater Gulf of Mexico region. A hardbound journal will be produced each year in concert with the traditional GCAGS Transactions volume, and both will be distributed at the yearly convention. An editorial board, which will serve for a 3-year term, will oversee the review process.

Each Journal volume will consist of 10 to 20 articles selected by an editorial board from among the extended abstracts submitted specifically for the Journal each year. The volume will also contain invited papers. Like Transactions contributors, authors of journal articles will make either an oral or poster presentation at the annual convention.