The online availability of the 2014 GCAGS Journal articles is made possible solely by contributions and support of Shell.
---
Contents
Facies Variability and Reservoir Quality in the Shelf-to-Slope Transition, Upper Cretaceous (Cenomanian) Woodbine Group, Northern Tyler and Southeastern Polk Counties, Texas, U.S.A.
William A. Ambrose, Tucker F. Hentz, and David Smith

Origin, Transportation, and Deformation of Mesozoic Carbonate Rafts in the Northern Gulf of Mexico
J. Carl Fiduk, Marianne Clippard, Sarah Power, Vivian Robertson,
Lynn Rodriguez, Omoyele Ajose, Dan Fernandez, and Daniel Smith

Reservoir Quality and Porosity-Permeability Trends in Onshore Wilcox Sandstones, Texas and Louisiana Gulf Coast:  Application to Deep Wilcox Plays, Offshore Gulf of Mexico
Shirley P. Dutton and Robert G. Loucks               

Impact on Sedimentation into the North-Central Deepwater Gulf of Mexico as a Result of the Chixculub Event
Erik Scott, Richard Denne, James Kaiser, and David Eickhoff      

Scanning-Electron-Microscope Petrographic Evidence for Distinguishing Organic-Matter Pores Associated with Depositional Organic Matter versus Migrated Organic Matter in Mudrock
Robert G. Loucks and Robert M. Reed 

A Laboratory Microcosm Study of Macondo Oil Degradation in a Coastal Salt Marsh
Daniel J. Fields, YueHan Lu, and Rona J. Donahoe

Predicting Potential Unconventional Production in the Tuscaloosa Marine Shale Play Using Thermal Modeling and Log Overlay Analysis
Hunter Berch and Jeffrey A. Nunn         

Examination of Deltaic Processes of Mississippi River Outlets—
Caernarvon Delta and Bohemia Spillway in Southeastern Louisiana
John A. Lopez, Theryn K. Henkel, Andreas M. Moshogianis, Andy D. Baker, Ezra C. Boyd, Eva R. Hillmann, Paul F. Connor, and David B. Baker           

Coastal Studies Institute:  A History of Science Contributions for 60 Years
Harry H. Roberts, James M. Coleman, and H. Jesse Walker           

Application of Production Decline Curve Analysis to Clastic Reservoir Facies Characterization within a Sequence Stratigraphic Framework:  Example—Frio Formation, South Texas
John D. Pigott and Bryant W. Bradley
2014 (Vol. 3)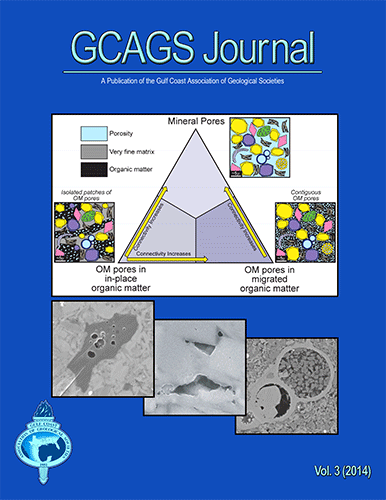 Cover: Characterization of mudrock pore systems (see Loucks and Reed herein). (top) Ternary diagram showing end members of mudrock pore networks, whereby pore network can be combination of mineral pores, organic matter pores in depositional organic matter, and organic-matter pores in migrated organic matter. The authors suggest that, as proportions of organic-matter pores in migrated organic matter and mineral pores increase, connectibility increases, resulting in better permeability pathways. (bottom left) SEM photomicrograph of organic matter interpreted to be depositional kerogen or byproduct. Organic matter shows no crystal growth between it and adjacent minerals. (bottom center) Photomicrograph of mineral pore where part of pore filled with solid bitumen or pyrobitumen containing bubbles that are interpreted to have formed by two-phase hydrocarbon inclusion. (bottom right) SEM photomicrograph of multichambered globigerinid with early calcite crystals followed by organic-matter emplacement. Middle chamber exhibits well developed calcite crystals that precipitated before formation of solid bitumen, which contains devolatilization cracks.